Outpatient Oncology and Infusion Center
The Oncology and Infusion Center at Central Peninsula Hospital offers quality outpatient cancer and infusion care close to home.
The center offers a variety of treatments to outpatients including chemotherapy, blood transfusions, platelet transfusions, IV antibiotics, and hydration and electrolyte replacement.  Our nurses change dressings and provide peripherally inserted central catheter (PICC) placement, as well as care of long term central catheters, including flushing and cap changes. Related diagnostic and comfort care procedures include bone marrow and liver biopsies, paracentesis and thoracentesis. All services are individualized to meet the special needs of each patient and family in a comfortable, relaxed atmosphere.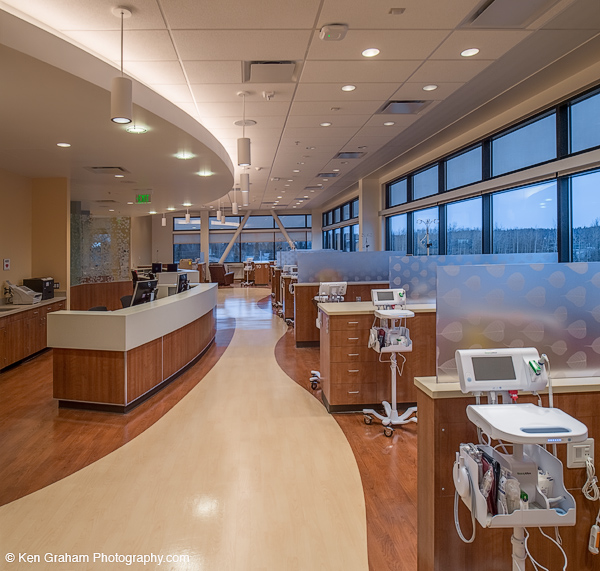 Our center provides services for primary physicians on the Kenai Peninsula and throughout the state.  Patients visiting from other states are also often referred for outpatient cancer treatment.  The Oncology and Infusion Center is staffed by nurses specially trained in chemotherapy treatment and includes a nationally certified Oncology Nurse.  Oncology nurses are always available to answer questions and provide our patients with information and resources.
While receiving treatment at our Center, patients can stay in their own home town and benefit from the support of their family and friends.  CPH also provides referrals to local cancer support groups, community education programs and maintains a large library of reading material and educational videos relating to cancer, treatment and methods of dealing with specific side effects.  Oncology patients also have access to a variety of wigs, head wraps, hats and breast prosthesis onsite.
You can make an appointment to visit the Oncology Center at CPH by calling 907-714-5611 or the Infusion Center at 907-714-4490. We are open 8:00am to 5:00pm Monday through Friday. We make every effort to accommodate your special needs.