New Childbirth Education Class Schedule!
Register online HERE
Take a Virtual Tour of Our New Facility!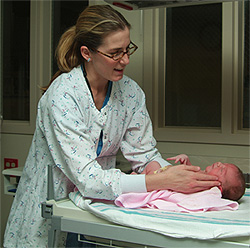 Family Birth Center
The Family Birth Center at Central Peninsula Hospital offers personal care in a friendly, relaxed atmosphere.  And should an unexpected need arise, our family of physicians and state-of-the-art medical equipment are right here – providing you peace of mind.  Our dedicated physicians, midwives and nurses are proud to offer you a variety of birthing options. 
Our Facilities
Our Family Birth Center is designed to meet the individual needs of parents and babies.  Our birthing rooms and postpartum rooms are all private.  The home-like rooms are equipped for mother's and baby's comfort and safety. Labor, delivery, recovery and postpartum (LDRP) takes place in the same room.
Before your due date, we recommend that you plan a tour to meet our staff and see our facilities.  Your tour will give us the chance to answer your questions or concerns about the birth of your baby.  We encourage Moms to pre-register before your due date, so you can be relaxed as possible when the date arrives.
Our Caring Side
We offer one of the best nurse-to-patient ratios in Alaska.  We have professional, compassionate nurses with you during your labor. Comfort measures, including epidurals and a Jacuzzi tub are available.  We offer a slower-paced, family-oriented approach for your birth experience and complimentary massage or Healing Touch treatments for every new mom. While a majority of pregnancies, deliveries and babies are healthy and normal, some patients do need specialized care.  Should an emergency situation arise, our highly-skilled medical experts have state-of-the-art equipment and the know-how to provide the care you may need.  Cesarean Section deliveries are available at the hospital.  If your doctor feels a Cesarean is needed, our staff is ready to make sure your experience is as safe and as comfortable as possible.
After The Baby Is Born
Our family-centered approach to birth includes keeping mom and baby together as much as possible.  Our physicians and nurses are available to help you learn to care for yourself and your newborn and to answer any questions you may have.  We also have a Lactation Consultant available to get you and your baby off to a good start! You can find additional parenting classes and support offered at Central Peninsula Hospital, by visiting our 
Prepared Childbirth
 page.