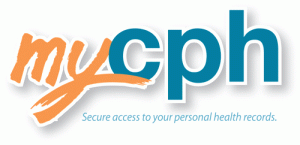 Already registered? To log in, please visit – MyCPH Patient Portal
Effective 9/10/16 the MyCPH patient portal has been changed to MyChart patient portal. The MyCPH Portal is no longer accepting new users.
Results prior to 9/10/16 can still be found in MyCPH. However, for test results from 9/10/16 forward, please go to the MyChart page at www.cpgh.org/mychart.
MyCPH offers patients personalized and secure on-line access to portions of their medical records. It enables you to securely use the Internet to help manage and receive information about your health. With myCPH, you can use the Internet to:
View your health summary from the myCPH electronic health record.

View your test results.

View your medical reports.

Send a summary of your care to a provider outside the hospital.

View and print medication and allergy records.