A Word About Customer Service…. We know there are other healthcare facilities you could have chosen for your imaging needs. With this in mind we take the fact that you have trusted us withyour diagnostic needs seriously and hope that every visit with us exceeds your expectations. Please don't hesitate to let us know if there's anything we can do to serve you better.
Gone are the days of a darkroom and processing chemicals in the CPH imaging department. Our state-of- the-art Picture Archiving and Communication System PACS) allows us the ability to easily compare your prior and current exams and electronically share your images and reports from our secure system with approved providers. Whether your local doctor has direct access to our imaging database via the Internet or is remote and requires immediate access to your exams via an e-mail link, we're available 24/7 to help facilitate delivery of your diagnostic imaging exams for your unique healthcare needs. We can also burn your images and reports on a CD and mail to a provider or for you to hand carry to an appointment. All we need is for you to complete and sign our medical release form and we'll take care of the rest.
X-rays pass through most objects, including the body. Once the x-ray machine is carefully aimed at the part of the body being examined a small burst of radiation is passed through your body and records an image on a special digital recording plate. Different parts of your body absorb the x-rays in varying degrees. Dense bone absorbs much of the radiation while soft tissue, such as muscle, fat and organs allow more of the x-rays to pass through them. As a result, bones appear white on x-ray, soft tissue shows up in shades of gray and air appears black. Be assured that we take special care during your x-ray examination to use the principles of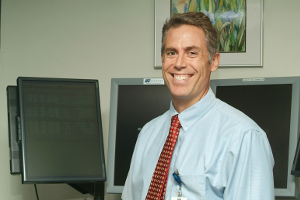 ALARA – which stands for As 

L

ow 

A

s 

R

easonably 

A

chievable– using the lowest radiation dose possible while producing the highest quality images for evaluation. Be sure to let your technologist know if there's any chance you might be pregnant before your exam. For your study we may ask you to change into a gown and remove any jewelry or metal in the area that we plan to x-ray. Common uses of general x-ray include:
Diagnoses and treatment of fractured bones or joint dislocation

Guidance for orthopedic surgery, such as spine repair/fusion, joint replacement and fracture reductions

Looking for injury, infection, arthritis and abnormal bone growth

Locate foreign objects in soft tissues around or in bones
A different type of x-ray procedure, fluoroscopy, uses a continuous or live x-ray beam and allows the radiologist to create a custom, movie-like sequence of images that are projected onto a television monitor. When used with a contrast material, which clearly defines the area being examined by making it appear bright white, this special x-ray technique makes it possible for the radiologist to view joints or internal organs in motion. For your fluoroscopic procedure we'll give you specific preparation instructions to follow. Again, please be sure to let your technologist know if there's any chance you might be pregnant before we perform your fluoroscopic exam.We'll also have you change into a gown and remove any jewelry or metal in the area that we plan to image. Commonly performed fluoroscopic exams include:
Upper GI with or without Small Bowel Follow Through – evaluation of your stomach and small intestine

Barium Swallow – evaluation of your esophagus

Barium Enema – evaluation of your colon

Myelogram – evaluation of your spinal canal

Guidance for Lumbar Puncture – to take a sample of spinal fluid for lab analysis

Joint injection – for diagnosis or therapeutic treatment

Hysterosalpingogram – evaluation of your fallopian tubes
Now that you're an expert on general x-ray we invite you to click Imaging Services to learn more about each of the modalities we offer.
Contact Us for Scheduling:
All Mammography & Fluroscopy Scheduling:
(907) 714-4542
All CT, MRI, Nuclear Medicine & Ultrasound Scheduling:
(907) 714-4420
Hospital Imaging:
Central Peninsula Hospital
250 Hospital Place
Soldotna, AK 99669
Phone: (907) 714-4580
Fax (907) 714-4995
Soldotna Outpatient Imaging:
240 Hosptial Place, Suite 102,
Soldotna, AK 99669
Phone: (907) 714-5340
Fax: (907) 260-1607
Kenai Health Center:
630 Barnacle Way
Kenai, AK 99611
Phone: (907) 714-4495
Fax: (907) 283-0794