CT Lung Screening – Early detection can save your life…
CT lung screening is a test used to detect cancer early in patients when the cancer is small enough to be treated early and potentially cured. At this time, only CT screening tests have proven effective as a screening test for lung cancer. It is a painless, non-invasive test that uses low dose X-rays to detect lung cancer in its early stages. It is performed on our state of the art, multislice computed tomography (CT) scanner, which allows the radiologist to detect very small tumors, referred to as nodules in the lungs.
How is it performed?
You will be lying on your back and briefly holding your breath for approximately 10-15 seconds while the scanner obtains images of your chest and lungs. The whole process will take approximately 30 minutes.
Does it involve radiation?
Yes, CT lung screening does involve exposure to low dose radiation. However, Central Peninsula Hospital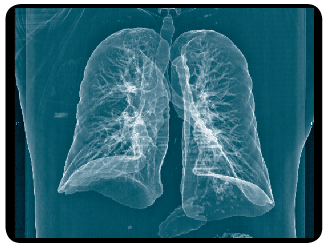 is committed to reducing your radiation dose as low as possible. The dose from this important screening test is less than 3.0 mGy for average sized patients, which is about the same amount of radiation that a person receives from naturally occurring background sources in the environment over a few months. Similar to mammography, the benefits of early detection of cancer outweigh the risks of radiation from this test. 
Who should be screened?
All patients who are over the age of 55, are currently smoking or have quit within the past 15 years and have a 30 pack-year history of smoking (pack year = number of packs of cigarettes smoked per day times number of years smoked) should be screened. A referral to a smoking cessation program is required. Smoking cessation materials will be provided as part of the screening process.
According to the Lung Cancer Screening Alliance, additional risk factors include:
Exposure to second hand smoke

Exposure to radon

Previous history of cancer (of any form)

Personal history of chronic lung disease (COPD, emphysema, pulmonary fibrosis, asthma)

Occupational exposure to carcinogens (asbestos, arsenic, beryllium, cadmium, chromium, diesel fuel, nickel, silica, etc)

Family history of lung cancer
CT Lung Screening
For CT Lung Screening appointments please call:
(907) 714-4420
All CT, MRI, Nuclear Medicine, & X-Ray Procedure Scheduling:
(907) 714-4420
Hospital Imaging:
Central Peninsula Hospital
250 Hospital Place
Soldotna, AK 99669
Phone: (907) 714-4580
Fax (907) 714-4995
Soldotna Outpatient Imaging:
240 Hospital Place, Suite 102 Soldotna, AK 99669
Phone: (907) 714-5340
Fax: (907) 260-1607
Kenai Health Center:
630 Barnacle Way 
Kenai, AK 99611
Phone: (907) 714-4495
Fax: (907) 283-0794
Is the screening test covered by insurance?
Medical insurance may cover this important screening. At Central Peninsula Hospital, we understand patients' financial concerns and are offering this important test at reduced rates. Check with your insurance provider to see
 if they cover this procedure. 
Why is this important?
Lung cancer claims the lives of over 160,000 people every year in the US and is the second leading cause of death, after heart disease. Nearly 80% of all new cases of lung cancer are from current or former smokers. Prior to a recent ground-breaking study performed across the country, there was no effective screening test accepted in the medical community that was able to detect lung cancer at a curable stage. Subsequently, most cancers were detected late and many were incurable. However, the National Lung Cancer Screening Trial, published in the New England Journal of Medicine (August 2011), conclusively demonstrated that CT screening for lung cancer in high risk patients results in earlier diagnosis of cancer and saves lives. In fact, this study was so effective that it was ended early to help save more patients. Central Peninsula Hospital's Imaging department is the first to bring this vital screening test to the Peninsula.
Call us for an appointment today at (907) 714-4420
For more information about Lung CT Sreenings go to www.shouldiscreen.com