Convenience and Security
Central Peninsula Hospital's online bill pay is a quick and secure way to pay your hospital and doctor bills online. If you have questions about your bill please contact us at (907) 714-4424 from 8:30am to 4:45pm.
To make the billing process easier for you, we are implementing a new system-wide electronic health record system. This new system includes all of our facilities and employed providers, giving you a single, comprehensive electronic health record. Instead of getting separate bills from our doctors, hospitals and outpatient locations you will get one statement that covers details for all services provided by Central Peninsula Hospital, CPH Clinics and outpatient departments.
It's important to continue paying all bills you receive during the transition period as you will continue to receive statements from the previous system until those balances are paid in full or resolved. To learn more about our new billing statement, please read our Billing Frequently Asked Questions. To pay your bill online click on the statement below that looks like the statement you received.
New Combined Statement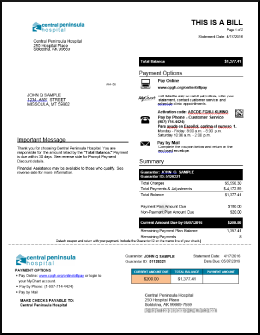 Login & Pay

__________________________
To Pay by Mail
Please send to: Central Peninsula Hospital 250 Hospital Place Soldotna, AK 99669
For Credit Card Payments Call: (907) 714-4424
__________________________
Old Hospital Statement
Login & Pay

__________________________
To Pay by Mail
Please send to: Central Peninsula Hospital 250 Hospital Place Soldotna, AK 99669
For Credit Card Payments Call: (907) 714-4424
__________________________
Old Clinic Statement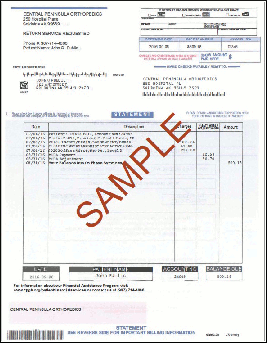 No Online Payments
__________________________
To Pay by Mail
Please send to: Central Peninsula Hospital 250 Hospital Place Soldotna, AK 99669
For Credit Card Payments Call: (907) 714-4066
__________________________