Central Peninsula Oncology provides friendly and efficient care to the Central Peninsula community. A physician referral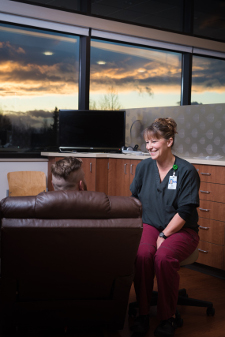 is not required. Please call (907) 714-5611 with any questions or to schedule an appointment. We look forward to serving you.
What to Expect
When we welcome you for your first visit, you will be asked to complete some paperwork to help us provide the best care we can. 
What to Bring to Your Appointment

  Patient Questionnaire 
We ask new patients to arrive 30 minutes prior to their scheduled appointment time to complete the appropriate paperwork.
Please bring:
Insurance card(s)

Driver's license (or government identification)

List of current medications (including dosages)

Records from previous health care provider, when applicable

New Patient Questionnaires (completed)

Payment for any co-pay, deductible or co-insurances
Billing and Insurance
Please bring your insurance card(s) with you to each appointment. All co-pays, deductibles and co-insurances are due at the time of your visit. We are happy to assist you with any billing or insurance questions. Please call (907) 714-4120 for support.
Central Peninsula Oncology is a Preferred Provider for 
The In-Network insurance list for Our Hospital, Clinics, Clinic Physicians, Emergency Room Physicians, Anesthesiologists and Pathologists can be found HERE